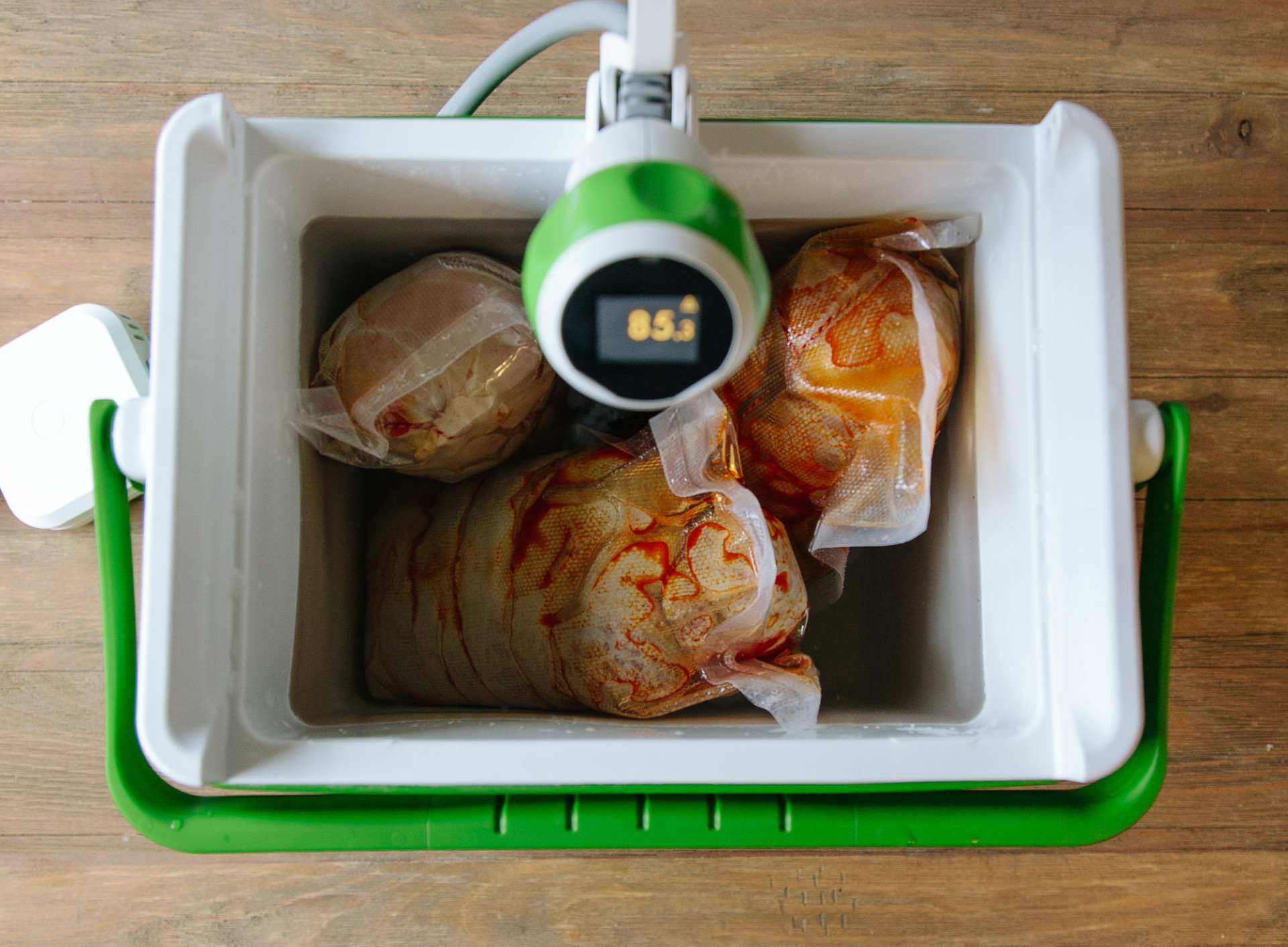 Is it possible to ferment salami using the sous vide method? And if so, are there any real benefits to doing so, or is it simply a novel, unnecessary approach? These are things I started asking myself about a year ago. It wasn't until recently that I've put these questions to the test.
Note:
These 'Work in Progress' posts are a way for me to present ideas or concepts that are not yet fully baked. In doing so my hope is to have an open dialog with others who may have input, ideas or experience on the topic at hand. It's a way for us to learn, together; and its a way for me to document the miscellany of experiments and ideas I have in process. Most of which end up on
Instagram
, if you're not following me there.
A Word of Caution:
Nitrite is absolutely necessary if attempting to ferment sous vide. Insta Cure #2 contains
both
sodium ni
trite (
at 6.25%) and ni
trate
(at 1%), with the remaining 92.75% being salt. This prevents
Clostridium botulinum
from producing botulinum toxin, which causes botulism. Some approach making salami in the old-world style with just "salt and time".
Please don't ferment under vacuum without added nitrites.
Moreover, this post is not intended as instruction for beginners. Please do not use sous vide fermentation as your foray into the world of salami making.
Can you Ferment Salami en Sous Vide?
The answer is yes. It is possible and it works well. But are there any real benefits over traditional fermentation methods? We'll get to that.
Fermentation Primer
In the traditional method of fermenting, the salami is brought to a desired temperature to encourage the lactic acid producing bacteria to reproduce, eat the sugar (typically dextrose) and produce lactic acid as a byproduct. The amount of acid increases and in turn lowers the pH; typically targeting a pH of 5.3 or a bit lower. The higher acidity environment discourages bad bacteria from growing. Temperatures often range from 70°F/20°C to 115°F/46°C; with the lower temperatures producing old-world-style salami, and higher temps for more assertive and tangy American-style salamis. Humidity is often kept as high as possible, ranging from 75-95% relative humidity. The high humidity prevents the casing from drying out and hardening.
In commercial productions this is accomplished with a purpose-built fermenter, which can be an entire room for larger production, or smaller bread proofers. In home production fermentation can be done a myriad of ways: from lower-temp fermentations in a oven, simply using the heat from the pilot light; to purpose-built boxes or converted refrigerators; to speed racks enclosed by a plastic cover, heated with a space heater and kept humid with a portable humidifier—anything able to maintain a consistent temperature and humidity.
Sous Vide Fermenting
The approach to fermenting salami is no different from cooking anything else sous vide:
Vacuum seal your salami in a bag
Set your immersion circulator to the desired fermentation temperature
Ferment for the amount of time necessary to reach pH 5.3
Then move to dry-curing chamber and dry as usual
The Pros and Cons
The Pros:
Precise temperature control. The reason we cook sous vide is it's ability to maintain a precise temperature. In home production and without a purpose-built fermenter, it's often difficult to maintain a constant temperature; fluctuation can range between 5°-10°F. The water bath eliminates this inconsistency.
Humidity is not an issue. The lactic acid bacteria (LAB) that we add through starter cultures are anaerobic and do not require oxygen to survive or reproduce. Therefore the reduced oxygen environment (there's still a bit left in there) of the vacuum-sealed bag does not pose a problem. Moreover, because the salami is sealed in a bag there is no place for the moisture to escape. This means it's impossible to over-dry the casing during fermentation, which contributes to "case hardening".
The Cons:
Mold will not grown under vacuum. In most salami it is desirable to have a covering of good mold. We often do this by inoculating the casing with a mold solution, typically Bactoferm® Mold-600. Inoculation is best done by soaking the casing in the mold solution before stuffing, with a secondary external application during fermentation. The majority of the mold bloom happens in the warm humid environment of fermentation. Mold is aerobic, in that it requires oxygen to grow. When fermenting sous vide—literally "under vacuum"—there is no oxygen for the mold to grow. This precludes inoculation by soaking prior to fermentation and/or application of mold during fermentation. It's still possible to apply and grow mold post fermentation while drying, though it's less ideal because the covering is often not as full as when done prior and/or during.
In summary:
Precise temperature control allows for better, more predictable fermentation
Vacuum sealing eliminates the need to maintain high humidity
Mold cannot grow under vacuum and requires application during drying
Method
All trails to date have utilized Bactoferm® F-LC stature culture. I've fermented at temperatures ranging from 75°F/24°C to 95°F/35°C.
What to Expect
My limited trails have found that the salami does not firm up as much during fermentation, at least not in the same way that you would expect with traditional fermentation. This was a bit worrisome at first, but it seems that the firming happens more after fermentation. I'm not sure what causes this. I would assume that it's due to the fact that there is no water loss during sous vide fermentation, where there is in a traditional approach. I don't know. There also seems to be less color transformation. Traditionally you'd see a significant change to a darker red as the various enzymatic and bacterial reactions take place. This also seems to normalize post fermentation. Again, I'm also not certain what causes this. More investigation is needed. I would not think that ingredient formulation would have any affect on the outcome of fermentation, outside of time required to reach desired pH.
Summary
Due to the inability to grow mold during fermentation, fermenting sous vide is likely best suited to applications where mold growth is less of a concern. In the photos above I am fermenting 'Nduja. Due to the large amount of peppers/capsaicin and post fermentation cold-smoking, mold will not grow on 'Nduja. This makes it perfectly suited to sous vide fermentation. For me it's also an issue of convenience. It's much easier for me to drop a sealed salami in a water bath than to babysit a fermenter for several days. While my fermentation setup, consisting of a speed rack, plastic covering, space heater and ultrasonic humidifier, is certainly capable of doing an excellent job of fermentation, it takes a bit of work. I must constantly monitor temperature and humidity and I have to refill the humidifier 3-4 times. If making salami is a full-time affair for you, this is likely not an issue. But when it's not, a multi-day ferment takes a bit of coordination. With sous vide, I can simply drop it in the bath and take it out when it's ready.