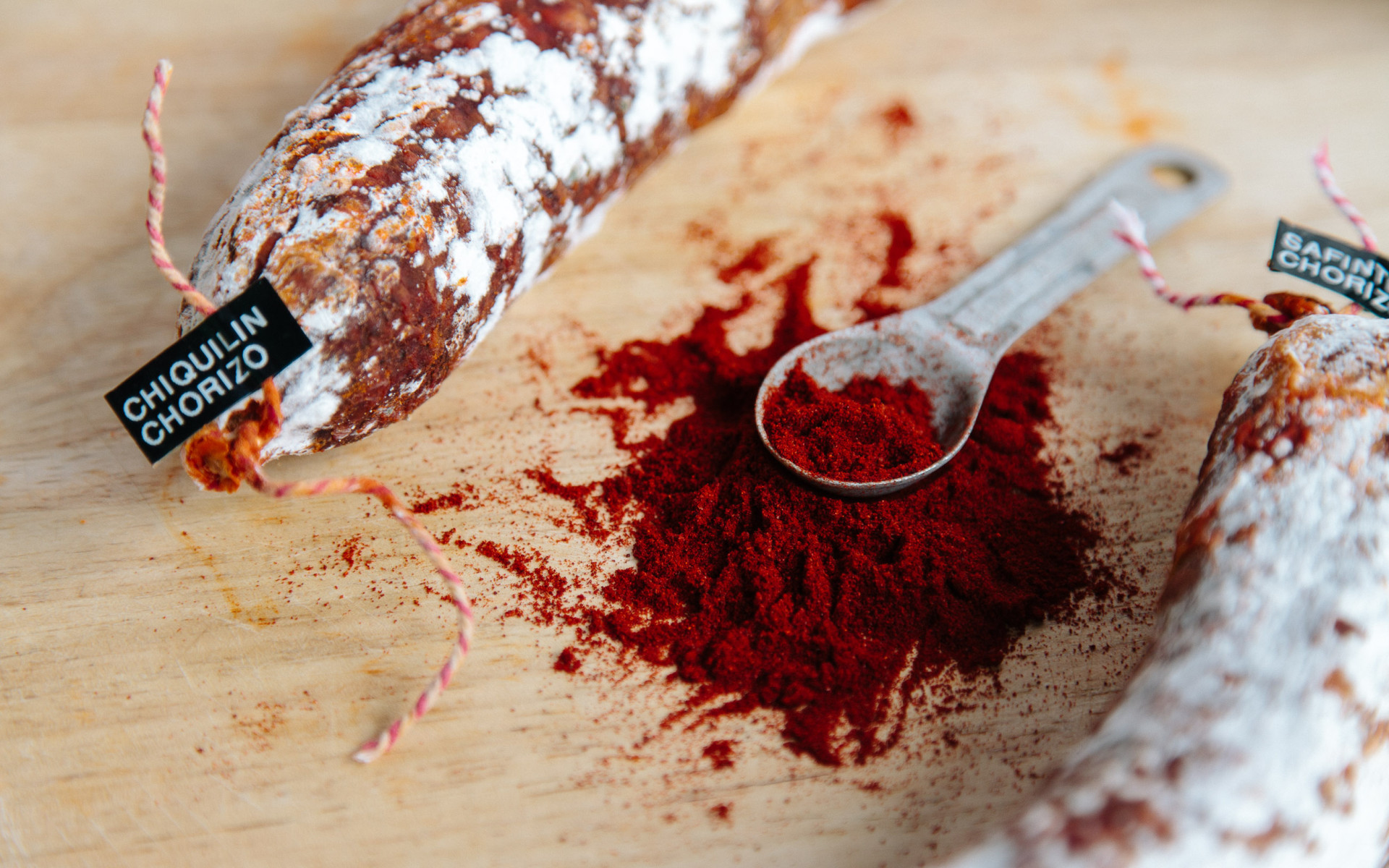 If there's one thing chorizo is not, it is subtle. Pork, fat, garlic and pimentón. In copious amounts. Even in its most reserved incarnation, chorizo is bold. Don't get me wrong, I've nothing but the utmost respect and appreciation for the subtleties of flavor in old-world Italian salami—but as an American, I approach things a bit differently. Big, bold, sour flavors. Summer sausages and pepperoni sticks. That's the 'salami' of my youth. And that's why I love chorizo. It's unapologetic; a middle-finger to the understated and a kick in the mouth.
First, let's establish that this is Spanish chorizo. Not Mexican chorizo, which is actually an evolution of the un-cooked, un-cured Spanish chorizo fresco—and if you were raised in the Southwest, as I, you've no doubt experienced a late-night encounter with a 'berto's chorizo breakfast burrito… but I digress.

As salami is a subset of salumi, chorizo is a subset of charcutería. And chorizo is to Spanish sausage as salami is to Italian sausage; that is to say, it's a broad term which encompasses a host of different styles and permutations dictated by region, village and family.

Picadillo, fresco, semicurado, curado?
Chorizo can be broken into four categories: picadillo, fresco, semicurado, and curado.
Chorizo picadillo is a loose, ground-meat sausage that's often fried and used similarly to a Mexican chorizo. Fresco, or fresh, is the same, but stuffed in a casing and cooked like as raw sausage. Semicurado, literally semi-cured, is as it sounds: fresco sausage that's been cured/fermented, sometimes smoked, but not dried, and cooked like a fresh sausage. Curado, is as you may have guessed, cured. The chorizo the majority of us Americans are familiar with is chorizo curado, and such is the topic of this post.
Pimentón
At the heart of chorizo is pimentón. Pimentón is made from long, pointy, finger-width chili peppers. Pimentón, by another name, is paprika—but to call it such is a disservice. The stuff marketed in supermarkets as "Paprika", "Smoked Paprika", or even "Spanish Paprika" is flaccid, lifeless, dusty-tasting garbage and bears little semblance to the real thing—which is indeed something special.
Pimentón de Murcia and Pimentón de la Vera
There are primarily two types of pimentón: That from the city of Murcia; and that from the la Vera region of Spain.
The pimientos grown in Murcia are sun-dried, producing a mellower, more vegetal pimentón. The pimientos grown in the la Vera region are dried by way of wood fire, which imparts the trademark smokey flavor associated with pimentón, and often marketed as "smoked paprika".
Real pimentón is subject to DOP (Designation of Origin) protection, and often bears the labeling of "Denominación de Origen Protegida", or the official seal of "Pimentón de la Vera".
Dulce or Picante
Pimentón de la Vera is typically available in two levels of spiciness: dulce (sweet) and picante (hot/spicy), with the occasional bitter-sweet variety.
Tasting Brands of Pimentón de la Vera
There are several major brands and exporters of pimentón from the de la Vera region: Safinter, el Rey, La Chinata, Chiquilin, La Dalia and Santo Domingo are among the most notable. But which is best to make chorizo? No doubt a subjective answer, but driven by my curiosity, I set out to test them against each other.
We tested four major brands (above, from left to right): Safinter, el Rey, La Chinata, and Chiquilin; each in their respective dulce and picante offerings.
The chorizo (recipe below) contained, by weight of meat: 2% dulce and 0.5% picante. All other ingredients, preparation, fermentation and drying were identical.
I asked 10 different people, several on multiple occasions, to test the four different brands and indicate a preference. Tests were conducted with a triangle test methodology, where individuals are presented three samples, two of which are identical and one of which is different. Tasters are asked to identify the odd sample and indicate a preference. Samples are randomized.
The Unscientific Conclusion?
You cannot tell the difference of brands of pimentón de la Vera in a chorizo.
Not enough people were able to identify the different sample, and several of those that did, indicated at a later date, a different preference than expressed earlier. The preference appeared arbitrary.
Granted, my sampling was certainly not large enough to make any real assertions. Moreover, the results would be difficult to interpret because I have more than two samples. But I think it's safe to say that it's difficult to tell a difference among brands. If I had easy access to a larger panel of tasters, and limited the samples to two brands, then I would guess that you may be able to determine a preference. But as taste is very much a subjective matter, it may be a moot point. As for this exercise, there was no clear winner.
Note:

The following assumes a basic understanding and experience making salami or fermented, dry-cured sausages. If you are new to making salami, I would strongly suggest you first read
The Art of Making Fermented Sausages
, as it's the best reference on the topic.
Choose Your Own Heat
Personally, I like a bit of heat—really, I like a lot of heat. As for the recipe here, it makes a chorizo that is mild-to-medium, in my opinion. Maybe that's a solid medium if you're a bit of a wuss. Feel free to change it up by adjusting the levels of picante or dulce pimentón; just keep to total of the two at 2.5% total.
Matters of Meat
Cuts that are typical used in chorizo are the cabecero (coppa; the muscle running from the neck to the 4th or 5th rib of the pork shoulder), the lomo (pork loin), the papada (pork jowl), the panceta (pork belly), occasionally beef brisket or chuck, and always tocino (pork back fat).1
While it's easy to isolate these specific cuts when butchering your own pig, it's not as easy to procure a cut like cabecero/coppa from your local butcher. Pork shoulder (and the Boston butt) are cuts which are much easier to find. The shoulder also typically has around 20-25% fat. A shoulder, by itself, with 25% fat, will make a perfectly good salami. As for chorizo, you should aim for a fat level of 30-40%. I've found that the added fat helps to offset the potentially grainy, dry texture that is possible with the large amounts of pimentón. Always use back fat. Belly fat is too soft. Chorizo made with 25% fat is good. Chorizo made with 35-40% fat is great.
Casings
Much like cuts of meat, casings for chorizo vary. Natural casing are the only choice, in my mind. For the iconic, looped (sarta) chorizo, you may use 35-50mm hog casings, or 50-60mm beef middles. In my opinion, beef middles are far superior to hog for dried salami. Hog middles are better suited for cooked sausage. For straight, un-looped, 50-60mm beef middles are excellent as well. Occasionally hog or beef bungs are used for large diameter chorizo.
Further Reading
For further reading on the topic of Chorizo, and Spanish food in general, I would highly recommend Charcutería: The Soul of Spain by Jeffrey Weiss
---
Special Ingredients Needed:
Insta Cure #2 (also called Prague Powder #2, DQ Curing Salt #2, or TCM #2). Nitrate/nitrite is a necessity when creating salami. To forgo it's inclusion, is to risk Botulism, Listeria and other potentially deadly illnesses.
Demerara sugar (also called turbinado sugar). Demerara sugar is a large-grained, somewhat crunchy, raw sugar. It's light brown, partially refined sugar produced from the first crystallization during processing cane juice into sugar crystals. Demerara is used in this recipe to impart a slight caramel flavor.
Dextrose (also called glucose). Dextrose is used here specifically as a food source for the starter culture.
Pimentón de la Vera; sweet and picante. Buy your favorite brand, or whatever brand you can find. Just use authentic pimentón from the de la Vera region.
SafePro® B-LC-007 starter culture. B-LC-007 is a "Bio protective, Listeria Control" starter culture, capable of acidification and designed to prevent growth of Listeria. If you're familiar with Bactoferm® T-SPX (both from the same company), the finished profile is very similar. Both are designed for low-acid, old-world style flavor profiles; while B-LC-007 has the added benefit of increased safety as well as additional bacteria and yeasts for flavor development.
Casings. For Sarta or Achorizado, use 50mm Beef Rounds; for Cular, use a Beef Bung.1
---
Spanish Chorizo (Castellano) Recipe
Ingredients

% of Meat weight

Pork Shoulder (85%) + Back Fat
(15%)
100%
Sea Salt
2.5%
Insta Cure #2
0.25%
Demerara
0.3%
Dextrose (Glucose)
0.4%
Sweet (dulce) Pimentón de la Vera
2.0%
Hot (picante) Pimentón de la Vera
0.5%
Garlic, fresh, minced fine
1.0%
Oregano, dried
0.2%
Dry White Wine (Spanish)
5.0%
SafePro® B-LC-007 Starter Culture
0.1%
30-50mm Beef Middle Casings
N/A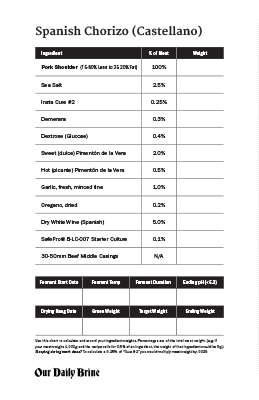 Worksheet Download
Download the Chorizo recipe Worksheet in printable, PDF format:
Chorizo Castellano Worksheet
Make mold solution approx. 12 hours in advance:
Dissolve 2.5g of Bactoferm® Mold 600 (Penicillium nalgiovense) in 200mL of room-temperature, chlorine-free distilled water; hold for 12 hours
Dilute mold solution to 1 Liter of chlorine-free distilled water; reserve
Rinse casings very well under running water
Soak the casings in mold solution; reserve at room temperature until ready to use
Dissolve starter culture into 35mL of room-temperature, distilled water, for every 2.5kg (5.5lbs) of meat; allow to hydrate for 30+ minutes
Weigh out salt, Cure #2, demerara and dextrose; grind together in spice grinder
Cut pork should and back fat into approx. 1″ cubes
Mix salt, sugar and cure mixture into cubed meat; transfer meat to freezer; freeze until partially—but not completely—frozen
Weigh out spices; combine hot and sweet pimentón and oregano, grind together in spice grinder; reserve garlic
Weigh out white wine; reserve
Mix spice mixture, garlic and starter culture into par-frozen cubed meat
Grind par-frozen meat once through 7–8mm die
Mix thoroughly by hand, incorporating wine; mix until meat becomes sticky, indicating a good bind, and forming a paste; if more bind is needed, meat can be paddled in stand mixer for 20-30 seconds; being careful to not over-mix
Transfer meat paste to stuffer; force down to remove any air pockets
Stuff in mold-soaked casings; tie off ends and segment as desired
Prick the sausage casing evenly to facilitate drying
Weigh each chorizo and record weight ("Green Weight")
Ferment salami at 65-75°F (18-24°C) in 90% relative humidity until a pH reading of 5.3 or lower is achieved; 24 hours is typical with B-LC-007
Transfer chorizo to drying chamber; dry at 55–60°F (13-16°C), while maintaining 80-85% relative humidity for first week or two, then 75% humidity for final drying
Dry until at least 35% of green weight is lost; 50% loss is typical for a firmer chorizo
References:
1. Weiss, Jeffrey. Charcuteria: The Soul of Spain. 2014.