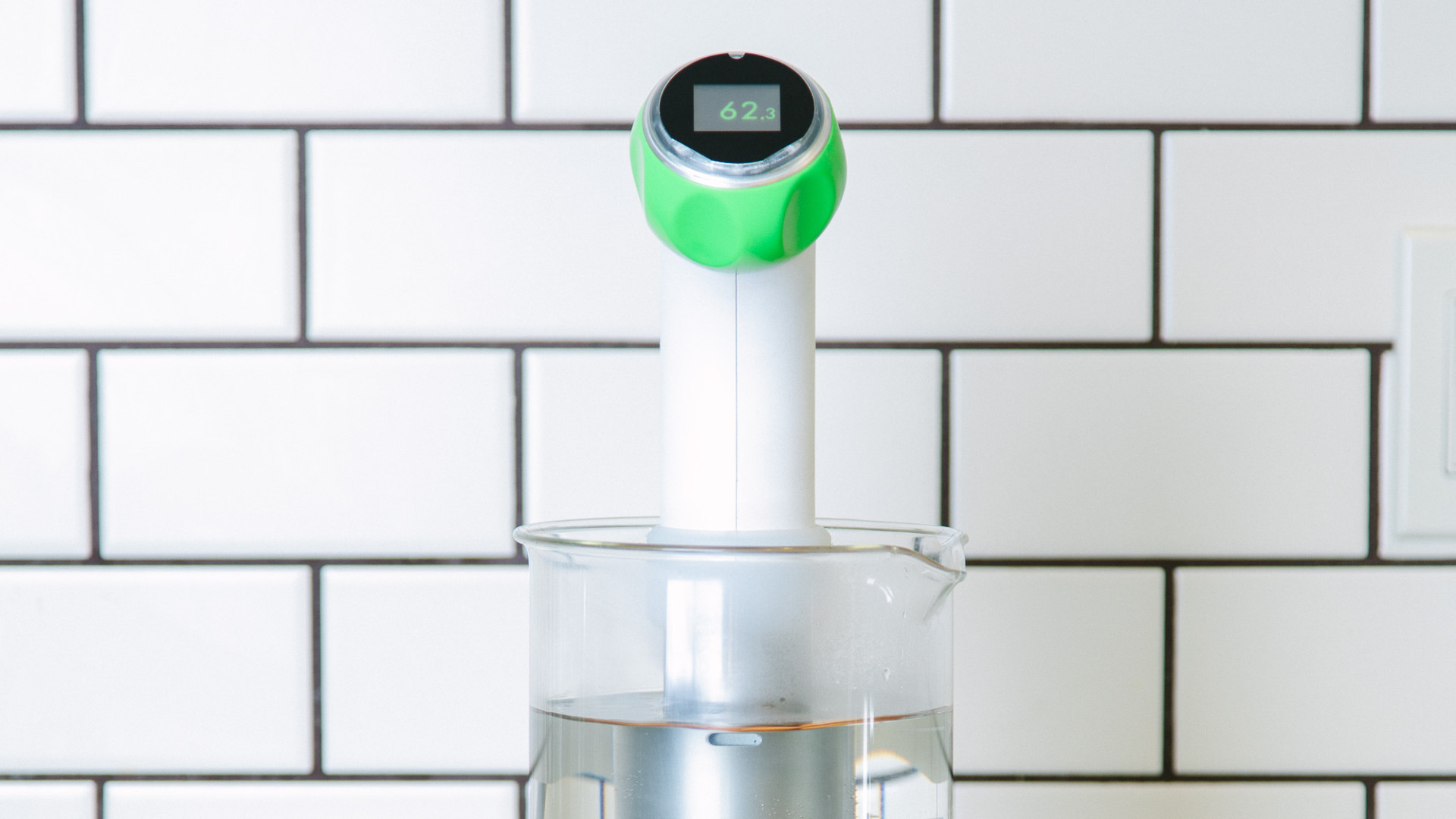 To the uninitiated sous vide may seem like an esoteric and unnecessarily complicated way to cook food. One might feel that cooking sous vide is better left to the professionals, but honestly, it's almost microwave-dinner-easy: You set the temperature for your bath, put your food in a bag and pull it out when it's done.
The beauty of cooking sous vide is that the temperature of your water bath is set to the final, desired temperature of your food. Cooking then becomes a process of waiting until the food reaches equilibrium (the same temperature) of the bath. This means it is impossible to over-cook. The method lends itself perfectly to applications like cooking a steak to a perfect medium-rare 130°F (55°C). The steak will be cooked evenly, from edge-to-edge, avoiding the overcooked outer areas that are typical of other more traditional methods.
Sous Vide 101
The term sous vide, roughly translated from French, means "under vacuum". This describes the process of cooking food in a bag which has had the air removed, typically with a vacuum sealer. The reference of "cooking sous vide" has evolved to represent food cooked in a water bath, whether sealed in a vacuum bag, or not (like eggs cooked in their shell).
Special Applications:
There are things that can be accomplished sous vide that are not possible by any other method. For example, tough cuts like short ribs are traditionally cooked by braising with a bit of liquid at a low(er) heat for an extended period of time; allowing the breakdown of connective tissues and tenderizing of meat. This is typically done at temperatures between 250°–300°F (121°–149°C). This makes it impossible to cook short ribs to a medium-rare temperature, as doing so would not allow enough time to tenderize the meat. But with sous vide, we are able to cook at a precise temperature like 130°F (55°C) for an even longer period (typically 2 or 3 days) to achieve a short rib that is perfectly tender and beautifully medium rare. Check out my method for cooking pâté en sous vide.
Everyday Applications:
The applications for cooking sous vide ar far-reaching and not limited to esoteric or complex preparations. Perfectly poached eggs, al dente vegetables, steaks cooked to an exact medium-rare, incredibly moist pork tenderloin, fermenting yogurt or making cheese, candy and pastry applications, keeping cooked foods warm before serving, or even heating baby bottles. Really, the possibilities are endless.
---
The Tools for Cooking Sous Vide
Sous vide cooking requires an immersion circulator to heat water, a pot or container to hold water, and a zip-lock bag, vacuum sealed bag, or an air-tight container like a mason jar to contain the food being cooked.
Immersion Circulators
An immersion circulator is the appliance used to cook sous vide. The circulator heats and holds water at a precise temperature, typically within 0.1°C.
In the past couple years, lower-cost immersion circulators have come to market. Previously, to cook sous vide required a significant investment in equipment. A typical immersion circulator, like the Polyscience 7306, would have cost you $1,200-$1,500—a price far too high for most home cooks. Thankfully, that's no longer the case. There are multiple circulators, like the Anova, Sansaire, and Nomiku, all available in the $200 range; a price less than a quality blender.
Not only are these new circulators cheaper, they are often just as powerful and becoming significantly more advanced. For example, Nomiku recently announced the next generation of their circulator, the Nomiku 2, which boasts a 1,200 watt heater, capable of keeping 30L of water within 0.01°C, and able to operate in 1.5″ of water. Doing so with WiFi connectivity, apps for iOS and Android and an open source API for the development inclined. And all this at a size that's less than half the Polyscience models.
---
Water Baths
The circulators mentioned above will work well in any heat-proof container. You simply clip it on, make sure it's submerged in the proper amount of water, and turn it on. Any container will work, but some are better suited than others.
Household Pots:
If you cook, it's likely you own a stock pot of some sort. These often make fine water baths, so long as your circulator fits. I often use a beaker (pictured to right) for small tasks, as my kitchen is filled with them and they make perfect prep/cooking containers.
Polycarbonate Containers:
Polycarbonate food containers like the 12qt. Cambro (pictured in photo at top) are typically used for sous vide cooking because of their versatility and ubiquity in commercial kitchens. The advantage of a larger container with more surface area is that the water level (displacement) varies less when items are added and removed. Circulators have a minimum and maximum water level line. Adding/removing large items will displace an equal amount of water, necessitating a dance of adding and removing water to stay within the min/max levels. This is more dramatic in smaller pot-like vessels, and less so in larger containers.
As we know, water evaporates. Typically evaporation is not an issue when cooking sous vide, unless cooking for an extended period and/or the temperature is high. This can be minimized by using a container with a lid. Polycarbonate containers typically have matching lids that are easy to cut to fit your circulator.
Insulated Containers:
Insulated containers put less strain on your circulator and thus require less energy to maintain consistent temperatures. Moreover, insulated containers work well for extended cook times. The Nomiku Cooler Hack is an excellent demonstration of an insulated cooler with a lid cut to the shape of your circulator.
---
Vacuum Sealers
The last piece of the puzzle. Although it's not entirely necessary, if you are going to invest in equipment for cooking sous vide, you should consider purchasing a vacuum sealer. Vacuum sealers come in two basic forms: edge sealers and chamber sealers.
Edge Sealers:
Edge sealers work by sucking air out from an unsealed edge of the bag and sealing the bag once the air is removed. Edge sealers require special vacuum bags with one smooth side and the other textured. This allows the air to pass by the food on the textured side as it is extracted. Edge sealers are often sufficient for any type of home use and are easily stored when not in use.
Pros: Edge sealers are inexpensive (+/- $100) and will be sufficient for most all home applications.
Cons: Less vacuum power resulting in weaker vacuum. Sealing with liquids requires freezing liquid first.
Chamber Sealers:
Chamber sealers work by removing all the air from a chamber, and not just the bag. This allows for liquids to be sealed in the bag, as the vacuum is inside and outside of the bag. Chamber sealers are often much more powerful and provide varied levels of vacuum. Chamber sealers allow for many other interesting and useful applications, like removing air bubbles from a mixture, compressing and infusing liquids with different foods, and more. Most all professional kitchens cooking sous vide use chamber sealers.
Pros: More powerful vacuum with multiple vacuum levels. Ability to seal liquids. Many more applications.
Cons: Significantly more costly (typically $500+). Larger and bulky, requiring dedicated counter space.
---
Alternate Containers
Food does not have to be vacuum sealed. Ziplock bags can be used by submerging to the edge in water and sealing (referred to as the displacement method). Mason jars also make an excellent vessel for cooking, especially when the item being cooked is a liquid. Eggs can be cooked in their shell, and packaged items can occasionally be cooked right in the package/tin, provided the label is removed prior (like heating or cooking tinned goods).
---
Browning Food Cooked Sous Vide
Most proteins, like beef, chicken, or lamb, benefit from a healthy dose of the Maillard reaction (often confused with or referred to as caramelization). The desirable browning produced by the Maillard reaction happens at temperatures around 284°–329°F (140°–165°C); well above the boiling point and cooking temperatures of sous vide. This requires that we sear (and/or pre-sear) after cooking sous vide. There are several methods for searing.
Pan Searing:
Pan searing is typical, though prone to overcooking when not done carefully. Pan searing requires a super-hot pan (cast iron are best) and a quick sear, being careful not to overcook the protein. Contrary to popular belief—which insists you not touch your food while it's searing—flipping the protein every 15 seconds will allow a good sear while preventing overcooking of the interior.
Torch Searing:
Using a high-powered torch is a typical way to sear food cooked sous vide, and due to the significantly hotter heat, cooks quicker, avoiding the over-cooking typical with pan-searing. The downfall of torch searing is the potential for "torch taste" caused from burning bits of the protein due to not moving the torch quickly enough.
Deep Frying:
When time permits, my favorite method is deep-frying. It's easy to get a quick, golden brown crust without overcooking the interior or burning bits of the exterior. It allows you to sear all sides at once and maintain that edge-to-edge perfection that's a hallmark of sous vide cooking. Deep frying is significantly easier and cleaner when you have a dedicated fryer. Deep frying in a pot on a stove is certainly just as easy, but always seems to yield a mess.
Searing can certainly be accomplished by other methods, like broiling under a commercial salamander, grilling, flat-top, baking steels, etc. Anything that imparts high-heat quickly.
---
Additional Resources on Cooking Sous Vide
With this post I only scratch the surface of cooking sous vide. The books and websites that follow are a few excellent resources on the topic. They are listed according to comprehensiveness; from introductory to exhaustive authority.