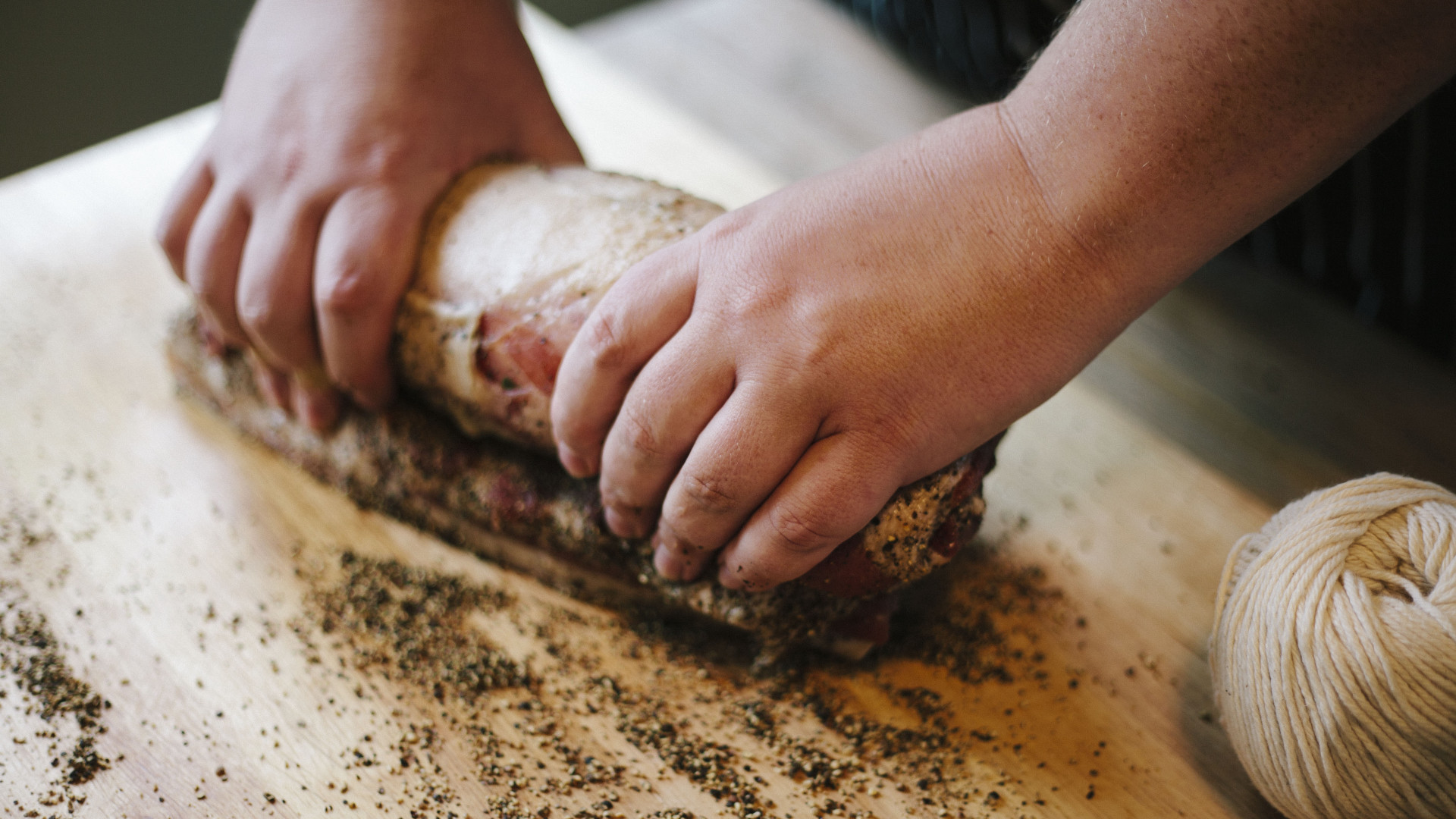 Be forewarned: Pancetta is quite possibly the gateway drug. The melt-in-your-mouth quality paired with simplicity and gratification of making your own at home, will have you hooked. Before you know it you'll be butchering a pig and building your own curing chamber for your next salumi project—or at least you'll never buy the cheap store-bought stuff again. I'll teach you how to make pancetta at home.
Pancetta, a Primer
Pancetta is Italian cured pork belly. But unlike it's American counterpart, bacon, it is not smoked (aside from smoked pancetta, but that's a different story!). Pancetta comes primarily in three forms: Arrotolata (rolled), Tesa (flat) and Steccata which can be made rolled or folded then pressed and tied between two sticks. The rolled variety is typical of Northern Italy, while the flat variety is common to the Central and Southern regions.
Like any salumi, the spice variations are endless. Each region, village and family has their own rich history and tradition. Black pepper, juniper, bay, garlic, thyme, oregano, and rosemary are all common.
An Introduction to Salumi
If you're flirting with the notion of making your own salumi or salami, pancetta is an excellent introduction. It's dead simple to make, takes the least amount of time and requires much less environmental control (more on that below).
Sodium Nitrite Prevents Botulism
In order to make rolled pancetta safely you need sodium nitrite. Sodium nitrite is used to prevent the growth of botulism-causing bacteria and decrease the growth risk of Listeria monocytogenes. It also retains the rosy-red color and enhances flavor. Botulism grows and thrives in anaerobic environments (environments without oxygen). The bacterium that cause botulism is present on the outside of meats. When you roll your pancetta, you are creating the perfect environment for botulism. Nitrite prevents this. If you are dead set on making pancetta without it, make the flat (tesa) kind. It's much safer. The thick layer of black pepper (a natural antibiotic), rolled into the pancetta, also aids in preventing bacterial growth and rot.
Insta Cure #1, also called Pink Salt, is colored pink so as not to be confused with regular salt. Cure #1 contains 6.25% sodium nitrite and 93.75% salt. Cure #1 is commonly used in bacon, hotdogs and other products that need less or no drying time. Insta Cure #2 contains both sodium nitrite (at 6.25%) and nitrate (at 1%), with the remaining 92.75% being salt. Simply put, nitrates act as a time-released nitrite. Nitrates are employed in salumi that requires longer periods of curing and drying. The time-release of nitrite continues to protect the meat over time. If you are making pancetta which will be cooked, you can use cure #1. If you intend to make a traditional pancetta arrotolata, which is fully dried and eaten without cooking, you should use cure #2.
Nitrites/Nitrates: A World of Misinformation
There's been a whole world of misinformation around nitrates and nitrites and how they may "increase risks of cancer". While I won't delve into this topic here, it's simply not true. Dr. Terry Simpson has an excellent article, backed by a multitude of studies and references debunking the myth. I'd encourage you to read it if you're of the "nitrates/nitrites are bad" camp.
"Where you receive it (nitrite) actually makes no difference because nitrite is nitrite. In other words, the nitrite derived from celery or other vegetables is exactly same as the nitrite found in cured meats." — Jeff Sindelar, Ph.D., University of Wisconsin
Nitrates are commonly found in leafy greens and root vegetables like spinach, beets, celery and lettuce. The nitrate in these foods are converted to nitrite when it comes into contact with human saliva. Then, when it is swallowed, the nitrite becomes nitric oxide—an essential and critical compound used by the body to maintain normal blood pressure levels, fight infection and support the nervous system.
Here's the kicker: Those "naturally cured" and "nitrate-free" marketed products available at your local "health food" store contain nitrite, because they use ingredients like celery juice/powder, rich in nitrite, as a "natural" curing ingredient. Moreover, the amounts of nitrite in these products is typically much higher than that of the conventional method. It's just marketing, friends.
A Word of Caution:
On its own, pure sodium nitrite/nitrate is dangerous. This is why cure #1/#2 is dyed pink. A single teaspoon of pure sodium nitrite/nitrate ingested is enough to kill a grown man. It's important to pay close attention to amount added to the cure. In almost all salumi this amounts to 0.25% of the total meat weight. In the example below our pork belly weighed 2,855 grams. 0.25% of that weight is 7.25 grams. That's not a lot, and emphasizes the importance of weighing our ingredients. The reality is this: Anything used inappropriately can be dangerous. 2-4 pills of acetaminophen can be used to cure the effects of a long night of drinking, while a fist-full could cause your liver to fail, and you to die. In the same, nitrates and nitrites are only dangerous if used improperly.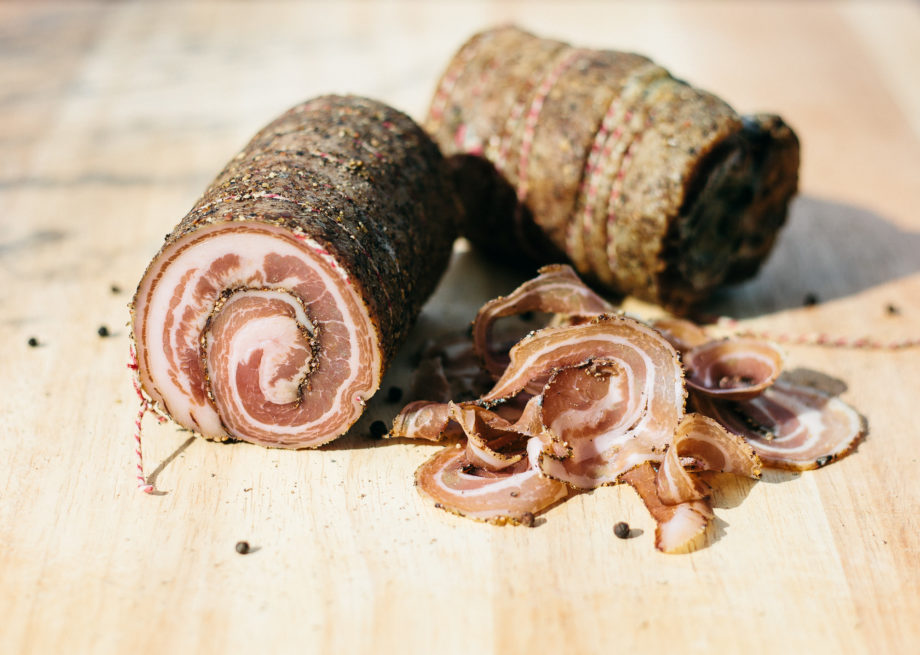 Always Source Natural, Good Quality Meats
As with all salumi, quality and freshness of meat is of paramount importance. Find a good local butcher or source directly from a farm. Let them know what you are doing with the meat, try to get the freshest available and use it as soon as possible. For this pancetta I sourced my pork belly from Carlton Farms, one of the larger suppliers (read: competitive prices) here in Oregon that still practices ethical, natural farming. Freshness is important because bacteria multiplies over time. In fact, every 20 minutes the bacteria present on the outside of meat doubles. Reduce the possibility of bad bacteria by using fresh meat.
Special Ingredients & Tools Needed:
A precision scale for spice measurement (Reference: Kitchen Essentials: Scales)
A general, high-capacity scale for weighing meat (Reference: Kitchen Essentials: Scales)
Butcher's twine
For Semi-dried pancetta (must be cooked): Insta Cure

#1

(also called Prague Powder #1, DQ Curing Salt #1, or Pink Salt)

For Fully-dried pancetta (can be eaten without cooking): Insta Cure

#2

(also called Prague Powder #2, or DQ Curing Salt #2)
---
Making Pancetta is Simple:
Grind and apply all cure to pork belly
Wrap tightly with cling wrap (or vacuum seal) and store in refrigerator
Cure for two weeks or more, flipping every couple days
Remove from cure, rinse and dry
Coat meat side thoroughly in cracked black pepper
Roll, tie ends with butcher's knot and truss tightly (this demo video is helpful)
Tag with date hung and weight of meat
For Semi-dried pancetta (must be cooked): Use cure #1 and Hang to dry for 3 weeks to 1 month
For Fully-dried pancetta (can be eaten without cooking): Use cure #2 and Hang until enough water weight has been lost — 15-20% weight loss for a fattier pork belly — OR — 20-25% weight loss for a leaner, meatier pork belly. It should feel firm when squeezed. Starting weight should be calculated at a point after curing and when you hang the pancetta to dry.
Learn to weigh your ingredients:
The only way to accurately measure your dry ingredients is by weighing them. For instance, a tablespoon of Diamond kosher salt is much different in weight than a tablespoon of Morton's kosher salt. If you are going to make salumi you cannot do so without an accurate scale. Weigh your ingredients.
The environment for hanging:
The ideal environment for drying is 50-70ºF (10-21ºC) with 60-70% relative humidity. Pancetta can be hung to dry about anywhere: in your kitchen, basement, garage, closet, etc. It's best, however, in an environment that get's a bit of humidity, like above a kitchen sink. You can dry pancetta in your refrigerator, though frost-free refrigerators maintain a low humidity. If you decide to dry in a refrigerator, position a tray filled with salt water, below the pancetta. This will create a micro-climate with increased humidity.
As light makes fat go rancid, direct sunlight should be avoided. If you've found the perfect environment, but light is an issue, you can thoroughly wrap the pancetta in cheesecloth to keep out the light.
---
The Cure:
I've shown my own weights here for reference. The easiest way to approach salumi is to use percentages of total meat weight. So, if your pork belly weighs 2.88 kilos (2,885 grams), your curing mixture would contain 2.75% (80.5 grams) of the meat weight in salt.
| | | |
| --- | --- | --- |
| Ingredient | % of Meat Weight | Quantity (grams) |
| Pork Belly | N/A | 2,885 grams |
| Salt | 2.75% | 80.5 grams |
| Insta Cure #1 OR #2 | 0.25% | 7.25 grams |
| Brown Sugar | 1.75% | 50.5 grams |
| Black Pepper | 1.8% | 52 grams |
| Red Pepper Flakes | 0.5% | 14.5 grams |
| Juniper Berries | 0.5% | 14.5 grams |
| Garlic Powder | 0.25% | 7.25 grams |
| Thyme, Dried | 0.25% | 7.25 grams |
| Bay Leaf, Dried | 0.15% | 4.3 grams |
Download a Printable Worksheet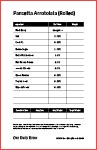 This handy worksheet specifies percentages of ingredients for the Pancetta Recipe, with a space to record your weights. There is also space to record your Cure Start Date, Hang Date, Hang Weight and Target Weight.
Download: Pancetta Worksheet
---
Frequently Asked Questions:
| | |
| --- | --- |
| Question | Answer |
| "My pork belly has been curing for a while now, but there is not much water loss and it doesn't feel a lot firmer. Did something go wrong?" | It's not uncommon to have little to no visible loss of water. There are a few reasons for this: First, pork belly is often comprised of more fat than muscle, and fat contains little water, while muscle contains a lot of water. Second, if curing in a tightly wrapped plastic or a vacuum bag, the salt will pull out what little water is present, it will mix with the dry cure ingredients, form a brine, and then be pulled back into the meat. This is what's referred to as equilibrium curing. Sometimes you will have visible water, sometimes you will not. Either is fine, given you give your pork belly enough time to come to equilibrium, which should be two weeks or more. |
| "I've got mold growing on my pancetta, should I be worried?" | As a general rule of thumb: White, non-furry mold is desirable. Blue and green molds are acceptable, but do not taste particularly great. Mold can be washed off while drying, or before eating. Use a 50/50 solution of vinegar and water, dab on a lint-free cloth, and wipe the area to remove. Orange and red molds are often considered dangerous. If you believe you have red or orange mold, you should considering tossing everything and disinfecting your curing environment. Molds spread very quickly. If you are getting a lot of mold, your humidity may be too high. |
| "Should I buy pork belly with the skin on, or off?" | On. You will also never find a traditionally made pancetta arrotolata without skin on; if it has been removed, then it is cased in a natural casing. The skin or casing promote a longer drying period, which allows the more subtle and nuanced flavors to develop. If you have the option, leave the skin on. You can always remove it later. |
| "I cannot find pork belly with the skin left on, and I do not have a casing. Can I make pancetta without skin or casing?" | Absolutely. The photos on this page are of a pancetta made without skin or casing, because the pork belly was not available with skin, and I did not have a suitable casing at the time. The results will still be excellent. |
| "Can I let the pancetta dry in the refrigerator? | You could, but it would be better in a place with more humidity. Refrigerators typically hover around 30-40%RH (relative humidity). Your pancetta will age better and avoid hardening of the outside if you dry in an environment closer to 60-80%RH as possible. You can place a tray with salt water under your pancetta in the refrigerator and this will raise the RH around it. The salt prevents mold growth and helps regulate the RH at around 60-70%. |
| "Can I make pancetta without nitrate or nitrite?" | You can, but I would suggest you do not. Those that do are often using some sort of curing agent like a specially made celery powder to impart the nitrates/nitrites. It's also hard to control just how much nitrite you are getting from the celery powder. What's more, there is no difference to your body. This is not a "healthy alternative", it's just marketing. Use the nitrate/nitrite. |
| "How do I tie/truss the pancetta?" | There's a great instructional video here: How to Tie Pancetta |
| "How do I store it after it's done drying?" | Wrap tightly in a few layers of plastic wrap and store in the refrigerator. It should keep for around 3 months, if not longer. |
| "I've had my pancetta in the refrigerator for a long time. How can I tell if it's bad?" | It is cured, it's designed to last. If it smells bad, it's probably bad. If it's gross and sticky, it's likely bad. Use common sense. And for god's sake, don't throw away pancetta unless you really have to. There are starving children in Africa. |
| "What scale do you recommend for precision measurements?" | I've documented the case for using weight measurement vs. volume measurement, and provided details on the scales that I use. That can be found here: Kitchen Essentials: Scales |
| "Can I use a less fattier cut than pork belly?" | No. Make a salad. |
Homemade Pancetta Arrotolata (Rolled)
Servings: 24+
Difficulty: Moderate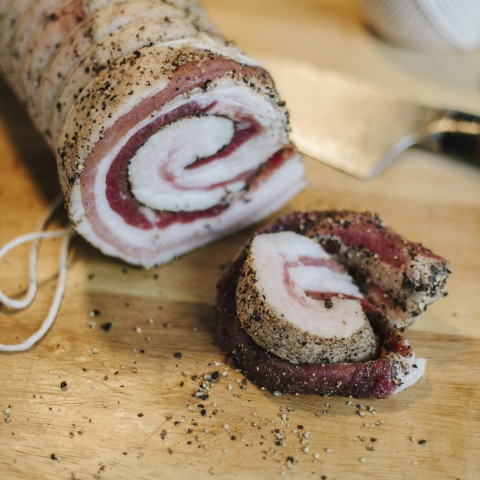 Pancetta is Italian cured pork belly. But unlike it's American counterpart, bacon, it is not smoked. Like any salumi, the spice variations are endless. Each region, village and family has their own rich history and tradition. Black pepper, juniper, bay, garlic, thyme, oregano, and rosemary are all common.
The Meat
Pork belly, skin on preferable, removed fine
The Cure
2.75% kosher salt
0.25% cure #1 — or — cure #2 (see directions)
1.75% brown sugar
1.8% whole black peppercorns
0.5% red pepper flakes
0.5% juniper berries
0.25% garlic powder
0.25% thyme, dried
0.15% bay leaf, dried
---
Directions
Wash the pork belly with a 50/50 solution of vinegar and water. This reduces the amount of bacteria present on the pork.
For semi-dried pancetta (must be cooked), use cure #1 in your curing mixture. For traditional, fully-dried pancetta (can be eaten without cooking), use cure #2 in your curing mixture.
Combine all of the cure and spice ingredients in a spice grinder and pulse until ground finely.
Coat the belly very well on all sides, rubbing the cure into the meat. Use all of the cure. Any which doesn't stick to the meat should be including when wrapped.
Wrap belly tightly, several times, in cling wrap, or vacuum seal in a bag. Place the curing meat into the refrigerator. The meat will expel water as it cures. If using plastic wrap, something to catch drippings will come in handy. Allow the meat to cure in the fridge for two weeks, flipping every couple days.
After meat has cured, remove from wrapping and rinse. Dry well.
Toast peppercorns in a pan until fragrant, but not burnt. Thoroughly coat the meaty side of the belly with cracked peppercorns. Use more than you think you should.
Role the meaty side with peppercorns toward the middle. The fatty skin side should face out. It's important to roll and tie the pancetta as tightly as possible. If there are air gaps inside it will rot.
Tie each end with a butcher's knot, then truss the entire belly tightly.
Weight the trussed belly and record the date and weight on an attached tag.
Hang in an area with higher humidity, like over a kitchen sink, or in a basement. Temperature is ideally under 70F. Keep out of direct sunlight, as light makes fat go rancid. You can wrap pancetta in cheesecloth.
Allow to hang for at least a month for semi-dried pancetta, which should be cooked before eaten. For pancetta that is fully cured and dried, hang until 20% of the weight is lost; after which it will be safe to eat without cooking.
Notes

Traditional pancetta arrotolata is always fully dried and eaten raw, sliced very thinly like a prosciutto. It is worth the additional drying time. You will also never find a traditional arrotolata that does not have the skin left on the belly, or is not cased in some natural casing like a bung. Skin and casing promote a longer drying period, which allows the more subtle and nuanced flavors to develop. If you're patient, it's worth it. If not, pancetta without the protective skin or casings is just as worth pursuing.

By Kyle Hildebrant, Our Daily Brine