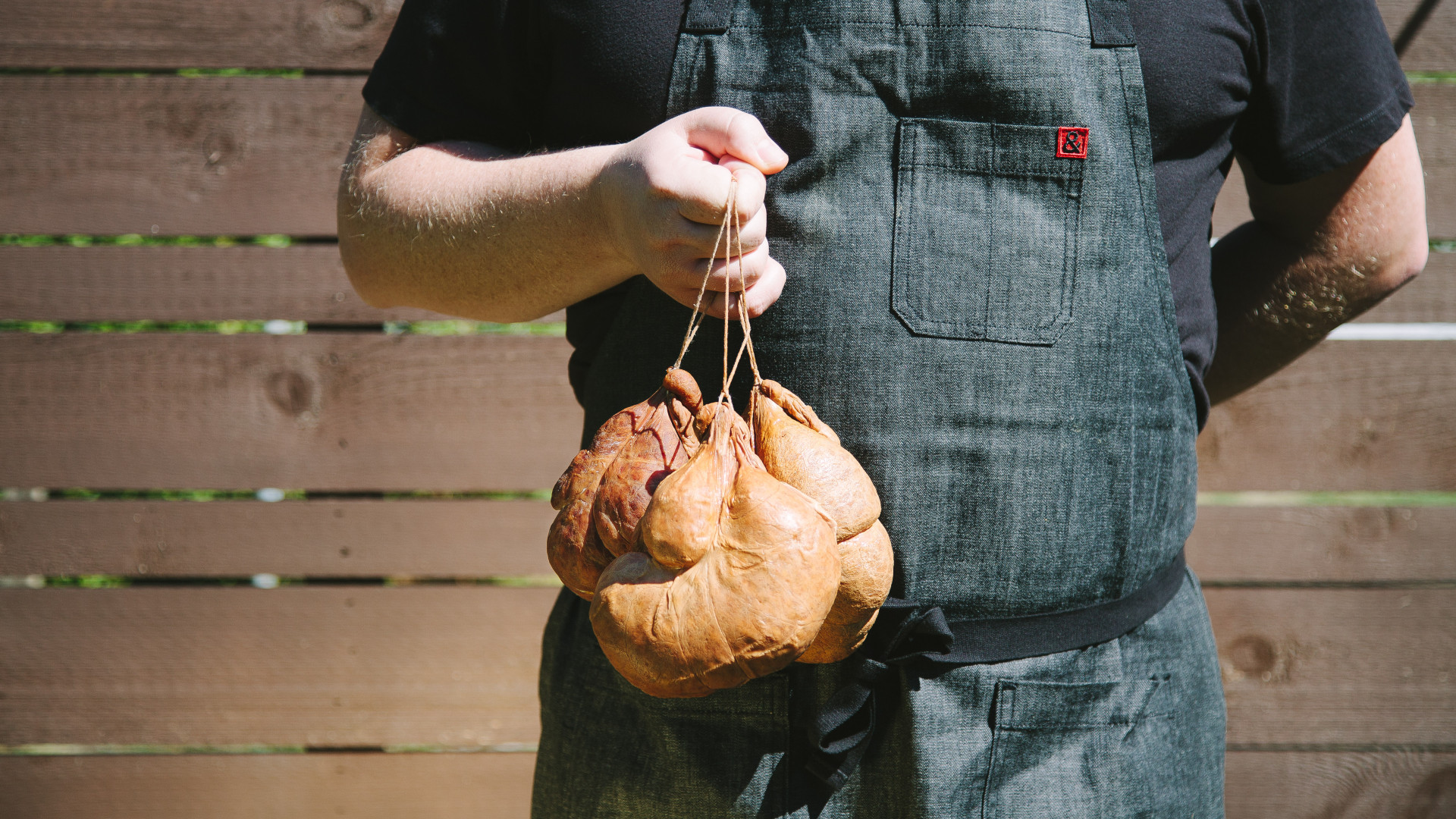 "Tom Thumb. Vivian Howard. WTF? Look into this."
That was the note I wrote to myself late last year. I was laying in bed, and as I usually do with my free time, I had one eye in a cookbook and another on the TV. Playing was A Chef's Life, starring chef Vivian Howard. The episode opens with Vivian visiting the Nahunta Pork Center, where she runs across a case filled with Tom Thumb sausages. "Oh, wow!", she exclaims. "I can't believe they have this. Tom thumb. We eat this every holiday." She goes on to describe how it's made and the episode progresses to her making a tom thumb dish for a large event.
Now those of you that follow the blog know that I'm a sucker for a good forcemeat. Especially when that's the muscle of an animal, ground, seasoned and stuffed into its own intestines. But who wouldn't like that, right? And to that end, I posses what some might describe as an unhealthy knowledge of salami and such things. But tom thumb? This was a mystery. Even the great Google had little to offer. And I had to know more.

I had the pleasure of speaking with Chef Vivian Howard. She was gracious and happy to share with me her passion and recipe for tom thumb.
Tom Thumb
I first asked Vivian how she came to be interested in tom thumb: "The way I came to be obsessed with the tom thumb, started seven years ago when I made these bacon meatballs. I ground up bacon and used some fresh pork and some smoked pork. And my sister says to me: 'This tastes like the tom thumb we used to eat.' And I'm like: 'What, tom what? Tom thumb?'". Vivian explains, "Now, my sisters are a bit older than I am, you see. I was an accident. She [Vivian's sister] says to me: 'Before you came along we used to have hog killings. And we made tom thumb with every hog. I don't really know what it is, but we had it on New Years.'"
Tommy T., Dan Doodle and the Boys
Tom thumb goes by several names, with Tom Thumb and Dan Doodle being two most widely used. I've also seen it called Tommy T., Tommie Doodle, and Tom Dandy.
From what I have found, Tom Thumb is the name used in North Carolina, while in Southern Virginia a sausage of the same kind is called a Dan Doodle. Vivian confirms this: "I think that it's a regional thing. In our part of North Carolina it's tom thumb. In southern Virginia—the other place where they make it—they call it dan doodle."
I asked Vivian if she knew the origin of the name. She explains, "I asked my parents, and a few other people in the community, and they put their thumb down. And they led me to believe that it was based on the shape of the sausage and its similarities to a thumb."
I'm not convinced that the resemblance to a thumb has any connection to the origin of the name. References to tom thumb sausage are found in print as early as 18301. It seems more likely that the name is taken from the character Tom Thumb, of English folklore, who first appeared in print in The History of Tom Thumbe, in 1621.2 The Encyclopedia of American Food and Drink also cites the English folktale as a possible origin of the name.
A Short History
I told Vivian that I've had difficulty finding anything substantial on the topic. She replied, "I started looking into it and—and as you said—there's very little information out there about it. Basically what I've found is through oral history of the people in my community."
Vivian went on to relate her family's experience with tom thumb: "We would have hog killings every January, and one of the big parts of the hog killing was making the sausage. The sausage was usually made on the second day of the hog killing. The most impressive—and most exciting sausage—was the tom thumb. They would use the regular hot sausage mix, which generally had a lot of sage and chilies in it. Some oregano, salt, black pepper. And they would stuff that into the pig's appendix—and you know the pig's appendix is just an extension of the large intestine. It imparts a lot of flavor—a very distinct flavor (she laughs). They then hang it in the smokehouse. If it was cold enough, we'd have the hog killing in November, and it would hang until New Year's. And on New Year's Eve this would be your lucky meal."
"The whole tradition of air drying sausage is very big where I come from." Vivian explained that in the Eastern region of North Carolina "country-style sausage" is king, drawing a comparison to the role that country ham plays in other parts of North Carolina, and the South in general. She added, "Even with the linked sausage that families would make. They would make a certain amount that was fresh, and then the rest they would hang and air dry. And that's still very popular where I live. They call it 'country-style sausage'. We use it a lot for seasoning greens. It's just a fresh sausage that they hang to cure and develop; in just a regular casing."
Origin
I've yet to track down any definitive cultural or ethnic origin. Other sausages like the salame la zia derrarese, soppressata di calabria, or 'nduja share the same "pig's appendix" casing, which is more accurately described as a hog middle cap, seeing as pigs don't technically have an appendix. The Italians refer to this casing as the crespone. There are other special occasion type of sausages like haggis, and although stuffed in a stomach, it is cooked by simmering and often served on a bed of cabbage greens. And there's also cotechino, which is served on New Year's Eve. According to Vivian, "In my research the only other time I saw this casing used was in some of these cotechinos. They would hang that [cotechino], like twelve days. It's also a celebration sausage meant for New Year's. So I wonder if there's some crossover there? They would also cook lentils in the broth." Vivian added, "We have a butcher shop—an old-timey butcher shop—near where I live. They make tom thumb. I asked them who buys them. They said only the very old, African-American folks. Which is interesting because my family [caucasian], we made them at one time. And I think that it all ended with people not having the hog killings."
Cooking with Tom
Tom thumb is a semi-dry to dry sausage that is cooked after fermentation and drying. Vivian told me, "You boil the tom thumb, slice it, pan fry it, and then use the liquid left over from cooking the tom thumb to cook your greens. And that would typically be cabbage—at least with my family it was cabbage. And then the greens take on a really wonderful flavor. They would put the greens on a platter and then fan the tom thumb out around it. It looks like a big hunk of bologna that's crispy on both sides."
I asked Vivian if she had ever fully dried tom thumb and eaten without cooking, as you would a salami. Her reply: "Yeah I think you could. I never have, because I think one of the best thing that it offers is the broth. For me that that's a big part of it."
While it seems that a low-boil, or simmer, is the preferred technique for cooking, there are accounts of roasting as well. Vivian told me, "My dad said that his mother used to roast it in the oven. So I did that one time. All I can say is to never do that with a convection oven. It smelled up my whole house. (she laughs) Like pig shit for the entire evening."
Vivian and I discussed serving tom thumb at her restaurant, Chef & the Farmer: "We had it on the menu for a long period of time. About six months. We had a lot of people who came in and knew what it was—and got very excited about it. And we had a lot of people who were terrified of it. When you explain it, it's not as appealing, you know? We would have it on the menu all the time but we need somewhere to hang them. Before we were incredibly busy, it was easy to hang eight to ten at a time, but now we need more refrigeration—the proper refrigeration."
Tasting Notes
Let me start by saying that my hands-on experience with tom thumb is limited. In addition to my research, and the stories and insight related by folks like Vivian, I have ordered three dan doodles from Edward's Virginia Smokehouse, in Surry, Virginia. The Edwards family started selling smoked hams in 1926, and by all accounts, makes an "authentic" tom thumb. In fact, they were the only place I could find that would ship one to me.
The taste? The first thing I thought was Jimmy Dean Hot Breakfast Sausage. If you've had it, you know what I'm saying. That flavor is unmistakable. When it comes to spicing, tom thumb is not terribly far off. Sage is the dominant flavor. Black pepper is right behind. Smoke follows. The pork shines through. There's a bit of red pepper spice, but it's in the background. And there's that salami-style funk. You get a bit of sourness from the fermentation and some of those earthy barnyard notes—no doubt imparted by the casing.
When first heard that tom thumb is "boiled", I couldn't help but think that all that great flavor would be lost in the water; resulting in a bland, lifeless meatloaf. So my first attempt at cooking was to slice it thick and simply pan fry it. It was extremely salty—and this coming from a guy that would salt bacon. Nearly inedible. Next, I simmer it in water. And lo and behold, the water tames the salt. It pulls just enough to leave a flavorful sausage and a well-seasoned "pot liquor", as they'd call it in the South.
Preparation
Meat and Fat
Most all accounts I've uncovered call for pork shoulder; 70% lean and 30% fat seem to be most common. Vivian's recipe is closer to 65% lean and 35% fat. The dan doodle from Edward's looks to be 50% fat (see photo). One recipe I found instructed you to "Cut the small intestine into small pieces. Mix with small cubes of fat, approximately one part fat to four parts intestine." Another called for liver. No doubt every family had their own take.
Smoked
Vivian told me, "I think that all of them were traditionally hung in the family smokehouse. That would lead me to believe that most of them had some element of smoke. The ones I served that you may have seen on the show were not smoked. We have since smoked quite a few. I love the flavor that the smoke imparts." The dan doodles from Edward's were smoked, but lightly so. Oak or hickory wood3 seem to be the most common, with peach and pecan making appearances; though I imagine folks would use whatever they had easy access to. Smoking times seem to vary from hours to days.
Fermentation and Drying
Tom thumb would qualify as a fermented, semi-dry sausage. Fermentation and drying times seem to range from 2 weeks to more than two months "hanging in the smokehouse". Vivian told me, "I have hung tom thumbs as long as two and half months. I've also eaten them after a week. As you know the flavor changes tremendously [with time]."
Casing
The hog middle caps seems to be the traditional casing, though there are accounts3 of hog stomachs4 being used as well.
Spicing
Spices consistent across recipes I've found are sage, red pepper/chili, thyme, sweet marjoram, savory, coriander, bay leaf, black pepper, nutmeg and garlic.
Keeping Tradition
Vivian asked me this question: "Why do we [Americans] stop doing these things? But those type of traditions continue on in Europe? I don't get that. I really don't get that."
As Americans it seems we do have a hard time keeping tradition. Maybe that's just my perspective, my experience. Or maybe it's a factor of America being a relatively young country. And is that exacerbated by the fact that we are a band of immigrants; a melting pot of different cultures and traditions? Does that result in a homogenization? Or is that in fact the heart of our heritage?
The push and pull between keeping tradition, and moving forward, is one I struggle with. As a creative, it's in my DNA to create. Doing so does not necessarily negate tradition, but it does push the bounds of evolution. There's no question, it's vital that we document, safeguard and celebrate our past. But these very traditions we strive to preserve are themselves the product of an evolution, with each family leaving their own distinctive fingerprint. The non-conformist in me writhes at the thought of being bound by tradition; yet a large part of me yearns for a time long past.
I'm reminded of the age-old saying "To break the rules, you must first know the rules." And maybe that's the key. Maybe a more conscientious understanding of traditions would spur more thoughtful preservation; or at least a more careful evolution. Maybe.
What I do know, is that it's vital that we keep what little American traditions we have, alive. Tom thumb is one of those traditions that's teetering the line of extinction. I take comfort in knowing we have such ardent champions of American heritage in chefs like Vivian Howard. Without the efforts and passion of people like her, I feel we'd lose what little heritage we have left.
As for my part, I'm planning to ring the New Year in with a tom thumb—albeit a slightly different take.
---
A Chef's Life
If you've not watched the Peabody Award-winning, Emmy-winning, and James Beard nominated series, A Chef's Life, you should. It's one of the few chef-centered shows on television that's refreshingly devoid of the sensationalistic drama that permeates the vast majority. PBS has special Tom Thumb segment from A Chef's Life.
Vivian Howard can be found on Instagram and Twitter.
---
Vivian Howard's Recipe for Tom Thumb
When I asked Vivian where her recipe originated from, she told me: "I just kind of winged it. I took several different approaches. I think what I've got is something pretty similar to what my family would've eaten At least that's what my sisters and my parents say." She added, "I added pink salt, but I don't know that my family would have done that."
Baker's Percentages:
Baker's percentages and weights have been added to the recipe. Some weights have been rounded.
Start Culture:
Although Vivian's recipe (below) does not call for it, a starter culture can be used. Because tom thumb is intended to be cooked, the bio-protective qualities of a starter culture are less of a factor; instead it would be used to develop flavor. I would suggest SafePro® B-LC-007 as it will retain that old-world style flavor you'd find in a wild-fermented tom thumb. Follow manufacturer instructions for amount and fermentation time/temp.
| | | |
| --- | --- | --- |
| Weight | Percentage % | Ingredient |
| N/A | 2 pieces | Hog middle caps casings |
| 3 lbs / 1.36 kg | 65% | Pork shoulder (shoulder + back fat = 100%) |
| 2 lbs. / 910 g | 35% | Pork back fat (shoulder + back fat = 100%) |
| 45.5 g | 2.0% | Kosher salt |
| 5.7 g | 0.25% | Insta Cure #2 |
| 10 g | 0.5% | Red chili flakes |
| 30 g | 1.5% | Fresh garlic, minced |
| 30 g | 1.5% | Fresh ginger, minced |
| 10 g | 0.5% | Dried, rubbed sage |
| 4 g | 0.2% | Dried thyme |
| 1 g | 0.05% | Nutmeg, ground |
| 215 g | 9.5% | Red wine |
Stuff and cure the Tom Thumb:
The appendix will likely be packed in a salt cure and will smell awful. Rinse it several times in cool water inside and out, changing the water around it as you go. If you just can't get past the smell, turn the casing inside out, cover it with water and stir in some baking soda to dissolve. Refrigerate overnight in the water. Drain the next day and do again with baking soda. I've done this both ways and have decided I enjoy the funk the casing imparts to the sausage. You're gonna get some of that no matter what, but a double day soak in baking soda water should cut it a bit.
Mix your sausage. Using clean hands, stuff the sausage mix into the cavity of the casing, making sure you press down firmly, filling every crevice of the casing. The casing is much stronger than a traditional hog casing, so don't worry about ripping it. It's more important to focus on packing as much sausage in as tightly as possible. Once it's stuffed It will look like an alien whoopee cushion.
Tie the top of the sac tightly with twine and make a loop to hang it with. Hang Tommy in your fridge for at least a week and up to 15 days. Make sure nothing is touching Tommy and that there is airflow around him.
He will darken in color and shrink slightly. You're not really hanging him long enough for mold to grow, but if you do see any black spots, throw him away.
Cook:
Rinse Tommy off and put him in the bottom of a 6 quart Dutch oven. Add onion, carrot, celery and water to just barely cover. Bring it up to a boil over medium heat. Cover and cook for 45 minutes. Take Tommy out and let him cool in the fridge for at least 15 minutes. Reduce the liquid by 1/4 and add greens, salt and sugar. Cook the greens in the broth for 15 minutes or till they're where you want them. Let the greens rest in the pot liquor till you're ready to serve.
Bring Tommy out and slice him into 1 inch rounds. The rounds should be firm and cooked through. In a 10-12 inch cast iron skillet heat 2 teaspoons of oil over medium heat. Add half the slices and brown on one side. Flip and brown the other side. Follow up with the remaining Tommy rounds.
To serve, put your greens on a platter and fan the browned sausage slices all around. Garnish with the rutabaga relish.
---
References:
1. Mariani, John F. The Encyclopedia of American Food and Drink.
2. Wikipedia
3. Forlines, Mary Ellen Baldree. Nancy and Joe plus Seventeen: Based on a True Story. Bloomington, IN: AuthorHouse, 2008. 229.
4. Wright, Renee. Virginia Beach, Richmond & Tidewater Virginia including Williamsburg, Norfolk and Jamestown: A Great Destination. Woodstock, Vt.: Countryman Press, 2010. 201.