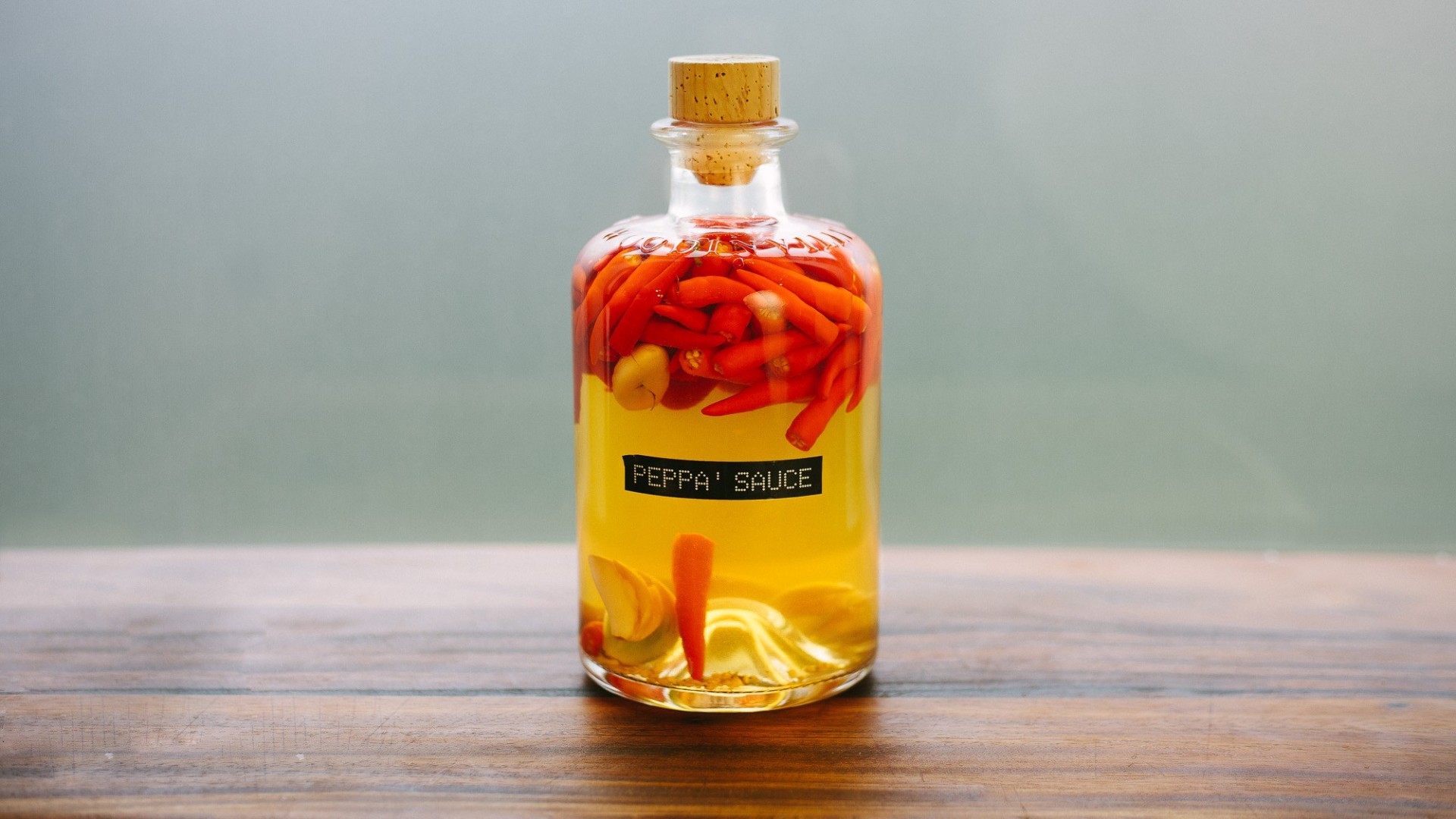 Pepper sauce, or "peppa sauce" to use the Southern parlance, is a dead-simple Southern staple. The recipe couldn't be easier: peppers and vinegar in a bottle. But don't let the simplicity fool you. Pepper sauce can elevate a bland bowl of collard greens to something truly special.
For us Pacific-coasters pepper sauce is a much lesser known thing. Tabasco® sauce—a whole different animal—is about the closest we get here. But venture South and you'd be hard pressed to find a table, at home or in a restaurant, that wasn't topped with a bottle.
A Million Uses
A splash or two of this can bring a bland dish to life. I can't eat collard greens or black-eyed peas without it. Most Southerners wouldn't either. Try it in soup, or as the acidic component in a vinaigrette or caesar dressing, or mix it into your favorite pan sauce at the end. Because of its simplicity the uses are endless.
Making the 'Peppa Sauce
To make, it's as simple as heating enough vinegar to fill your glass bottle (an old rum bottle is traditional), stuffing that bottle with peppers and filling with white wine vinegar. Garlic is frequently added, as are black peppercorns. That's how I prefer it.
Variations
Tabasco peppers can sometimes be harder to find, but any small(er) peppers will do. Red ripe peppers are the best, but green work too. As long as you can get them through the neck of your bottle, you're golden. Feel free to experiment by adding other whole, dried spices of your choosing or swapping the white wine vinegar for apple cider vinegar.
For an Asian-inspired twist you might try rice wine vinegar, Thai chili peppers, garlic and star anise.
Now here's the best part: when your bottle is nearing empty, just top it off with more vinegar. No need to heat the vinegar. The peppers will lose their potency over time, however, I've been working with a bottle for more than a year and have yet to replace them.
I'm fairly certain that those of you who make this will be making it for the rest of your lives.
Pepper Sauce
2014-01-07 19:05:04
Ingredients
1 glass bottle with cap or cork
1 handful of tabasco or your choice of peppers
White wine vinegar, or vinegar of your choosing
1 tablespoon whole black peppercorns (optional)
4 cloves garlic, smashed (optional)
Instructions
In a non-reactive pot bring enough vinegar to fill your bottle to a simmer, being careful to not boil.
While vinegar is heating, set aside enough peppers to fill the bottle. You may remove the stems if you prefer, but it's not necessary.
Using a knife, make a small slit in each of the peppers. This slit allows the vinegar to more easily penetrate the peppers and soak up it's goodness web based project management tools.
Stuff all of the peppers into the empty glass bottle. If using the garlic and peppercorns, smash the garlic cloves and add those along with the peppercorns.
Fill the bottle with the heated vinegar
Notes
Because of its acidic nature it is not necessary to refrigerate. Garlic and black peppercorns are natural additions. Feel free to experiment with adding other dried spices, or just keep it simple.
When the vinegar gets low top it off with more. Pepper sauce will last indefinitely.
Our Daily Brine https://ourdailybrine.com/